Aloha, readers!
Christine and I recently (Back in earlier December 2022) had the opportunity to explore the beautiful island of Oahu in Hawaii, and we had an amazing time. This was our second trip to the Hawaiian islands, having visited Maui and the Big Island on our last trip in 2017. Oahu is a tropical paradise that offers a variety of activities and attractions for visitors of all ages. During our trip, we got to experience some of the island's most popular sights and activities, including hiking, kayaking, snorkeling, and more. Here are some of the highlights from our trip.
One of the first things we did was head to Waikiki Beach. This famous beach is known for its white sand, crystal clear waters, and picturesque views of Diamond Head. We spent a day lounging in the sun and swimming in the warm waters, which was the perfect way to start our vacation. We also spent a day in Ala Moana Beach Park, which is a nice less touristy , more local beach near Waikiki. As usual weather was perfect and we made the most out of our time on the beach.
We were fairly active on this trip , One of the many highlights of our trip was hiking the Koko Crater Railway Trail. This challenging hike features over 1,000 steps up an old railway track, which leads to stunning views of the island and the ocean below. It was definitely a workout, but the views were well worth it. We also did another hike the Wiliwilinui Ridge Trail .
Mid week, we did a morning runs around Waikiki Beach and Diamond Head as well as some snorkeling off of Waikiki beach , at Turtle Cove , The snorkeling was a bit crowded with tourists but we had a good time none the less.
After snorkeling will visited Byodo-Inn Temple a scale replica of a temple in Uji Japan, set in the lush foothills of the , Valley of the Temples, a hilly landscape is scattered with hundreds of freshly placed tropical flowers, like torch ginger and bird of paradise, to remember loved ones.
Another unforgettable experience was kayaking to the Kaneohe Bay Sandbar. This unique natural formation is a sandbar that only appears during low tide, and it's the perfect place to swim, sunbathe, and enjoy the beautiful scenery. We kayaked out to the sandbar and spent the day relaxing in the sun and exploring the shallow waters.
We also spent a day snorkeling at Hanauma Bay, which is a protected marine reserve that's home to a variety of colorful fish and other sea creatures. The water was crystal clear, and we got to see some of the most beautiful marine life we've ever encountered.
Also midweek , we spent some time at Lanikai Beach, which is often rated as one of the best beaches in the world. The soft sand, turquoise waters, and stunning views of the Mokulua Islands made for a truly unforgettable experience. We spent the day lounging in the sun and soaking up the natural beauty of this idyllic spot. After that we went drove a few minutes up the coast and wandered around Kailua Beach Park and then back to a favorite coffee shop in Kailua .
Finally, on our last full day , we made our way up to the North Shore of Oahu. We made a few stops, first the Polynesian Cultural Center, which is a living museum that showcases the diverse cultures of the Pacific Islands which included Hawaii, Samoa, Tonga, Fiji, Tahiti, and Aotearoa (New Zealand). From there we stopped at a local food truck for some grub. We finished off the after noon in Hale'iwa. This area is famous for its big waves, and we got to see some of the world's best surfers in action, which we just managed to catch the tail end of men's pro surfer competition. We also explored the charming town of Hale'iwa and sampled some of the local shave ice and garlic shrimp from Giovanni's. It was a fun and relaxing day spent soaking up the laid-back vibe of the North Shore.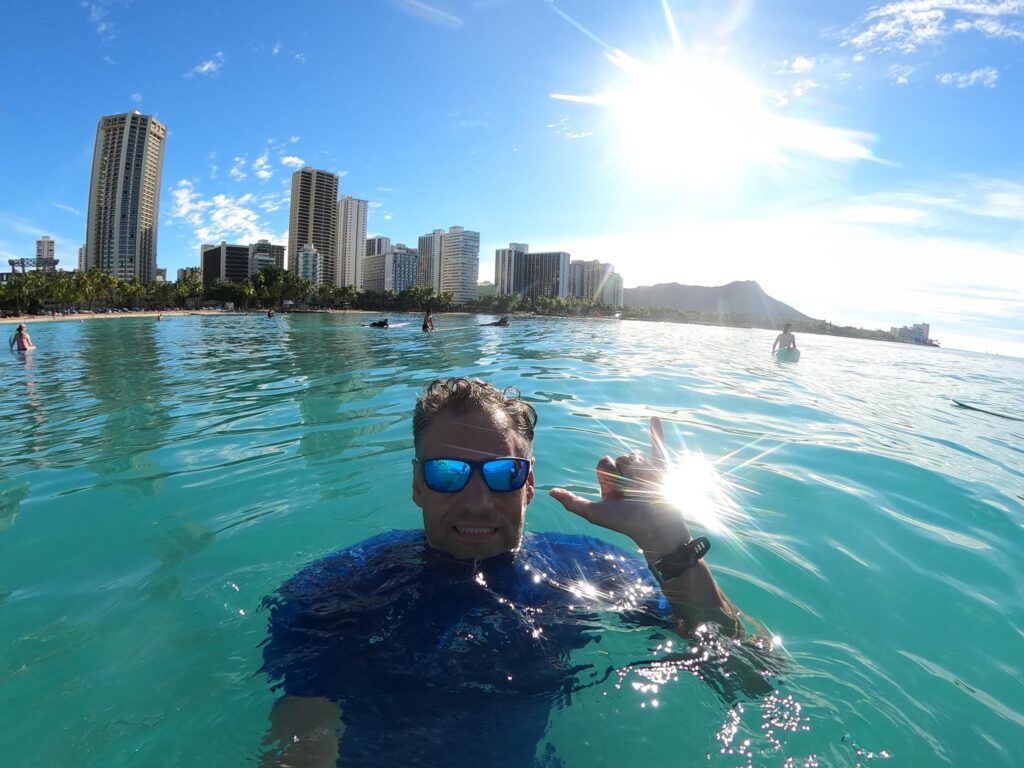 All in all, our trip to Oahu was an incredible experience that we'll never forget. From the stunning beaches to the thrilling outdoor activities, there's something for everyone on this beautiful island. Mahalo for reading, and until next time, aloha!