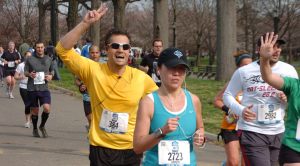 So trying to get back into shape I started running in 2011 and continued into 2012.  I had been hoping to lose a few pounds, and restore myself to some sort of decent running shape.
S'tarting slowly 5K then 10K
Cherry Blossom 10k .. The "A" race that wasn't
My favorite race has to to be the Cherry Blossom 10k, partly because its run through Branch Brook park during the prettiest time of the year, during the Cherry Blossom blooms. Also because its about a mile from my house.  And I run in that park regulalry as part of my traning runs. Plus making it special my two arch-rivals Duncan and Christine were going to be there.
Taking on a 13.1 Half marathon
Back in March I was peer pressured to do a half marathon. I had never run more than 6 miles so to do the full 13.1 miles was going to be a challenge. I had actually wanted to do a half marathon later in the year. My first 13.1 wasn't too bad.  But it was my second 13.1 that was even better
Rutgers 13.1 Half: Best race of the year.