2012 Triathlon… a return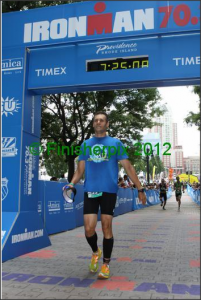 So 2012 was an interesting year for me. After more than 15 years of not competing in any kind of athletics I decide to take up running, swimming and biking and take part in a bunch of races all in one year.. . Crazy .. for sure.. but sooo .. much fun.. I can honestly say. athletics and races in particular are one of the sources of  pure enjoyment.
from Red Bank May 2012
My first triathlon of the season was in Red Bank NJ, may 20, 2012. This race was scheduled for the fall of last year, but was cancelled due to storm damage.  When race day did come, it was absolutely the best weather conditions, mild around 60 and sunny. This would be an olympic distance race. and I was hoping for a good performance. The swim was pretty chaotic, because our age group started in the last wave we had contact all the way through. The wetsuit was very difficult to take off, but when I got on the bike course it was pure enjoyment. It was a mostly flat course.  The bike was slower for me than I expected. I hopped off an put on my shoes and went running..
My first 70.3 Rhode Island
Perhaps my big race of the year, the one I signed up for first back in the warm confines of a snowy January evening, was the Ironman 70.3 Providence, Rhode Island. I chose this race partly because its the closest half-Ironman to me, partly because I heard good things about the Ironman Series, and partly because it didn't conflict with smaller local races, in the always busy month of July.
This was a destination race. even tough its only four hours drive from where I live. The nature of the race point to point transition areas and mandatory pre-race day packet pickup and setup , mean you need to be up there a day before.
To Six Flags – September 2012
The 2012 season wrapped up for me with the inaugural Great six Flags triathlon. This race I was part of a three person relay, with my friends Tony and Christine. It was a lot of fun, the swim venues was in a lake adjacent to six flags that's used for water shows, so there was actually stands people could watch the swim from. The swim was great and my fastest 1500m to date. I came out of the water in good position and quick transition to our cyclist Tony. After a phenomenal ride, he handed the chip off to Christine, who took off like a bat out of hell, and secured us 1st place in the Olympic distance relay category.. A lot of fun all around.