This is a short review of my experience with the Magic5 Swim goggles. Magic5 goggles are custom made , custom-fitted goggles that promise to transform the age old issue of leaky and ill fitting goggles into a perfect leak-free  fit.
Leaky goggles are the bane of anyone who spends enough time in the pool or the open water, and I too have been hoping for the day when goggles would fit my face  comfortably  without having to cinch them into cutting my eye sockets while keeping all water away from my eyes.  Read on and see my experience about these goggles.
The Theory
The name Magic5 comes from the founder's credo that it's the last 5% (the last magic 5%) of making goggles that are custom-fitted to an individual 's facial contours that will make the difference between a perfect fitting goggle, that feels "almost invisible" to your face, and every other swim goggle on the market.
Making the Purchase…
The process begins by purchasing a pair of goggles from their online shop. choose the lens color from either mirrored or non-mirrored. available color selections are shown here , after successfully purchasing the goggles who's prices are about ~$70  wait for an email with the purchase code that you'll need for the face scanning app.
Then begin downloading the Magic5 Apple or Android face scanning application and proceed to follow the steps Scanning your face as illustrated here with their demo.
I followed the above steps , and dutifully scanned my face, I originally tried the Android application but it kept crashing and after a quick email from the company borrowed a friends iPhone to scan my face and that went pretty well.  I understand the Android app received a recent update so it should be more stable now.
When you use the App to scan your face, it essentially creates a 3D mesh of the contours of your eye sockets, nose, jaw line etc. and from this contour mesh it will generate what  Magic5 data it needs to custom manufacture the google seals within their manufacturing equipment.
The Magic5 Goggles themselves..
A few weeks later, the one pair ordered(blue tinted -non mirrored) in a nice black hard case with the goggles inside. The goggles themselves look pretty standard they look like an over-sized swedish goggle, blended with the MP goggles style. The hard plastic lenses (in a variety of stlyes) are mated with a double strap , adjustable at the rear using a simple tried and true center wrap adjustments. The straps are attached to plastic extensions on the sides of the goggle. A removable  V shaped nose divider finishes up the design.
The "magic" is in the custom made seals…
Looking at the construction of the goggle, its made of hard plastic except for the lenses and the eye seals. It's in the eye-socket seals this is where likely the 3D printed /or custom extruded manufacturing takes place (custom-fitted) . You can clearly see the depth of the seals, are customized and different than any
other google I have used, where usually, the lense extends towards the eyeocks and the seal is just the last little bit.
They are designed to fit under your eyebrow, in your eye socket (which is why they suggest you scan your face with your eyebrows  a bit  raised… yeah kinda of like Spock, see their  video for how to get the best results), I presume this is so the scanning software is able to better measure the contour of your eye socket.
The seal material feels a little hard to me against the face and is not a cushy soft silicone seal like say TYR  goggles.
The Verdict… they leak 🙁 part one..
Sadly, I have to report that my experience with the Magic 5 goggles is they leak and frankly are no better than any other goggles, that I tried. They leak as much as any other off-the-shelf store  bought goggles. I tried fiddling with all sorts of adjustments, the head strap tightness from very loose to very tight, with swim cap, without swim cap, adjusted nose bridge, put them on at all  sorts of angles,   but with similar results, the leak in my case begins from the bottom  of the goggles (like most other goggles I tried).
They are designed to sit on your eye-socket (kinda like swedish style goggles) and the idea (i think) is that the custom seals will sit exactly against your facial contours creating a "perfect" seal.
I did a bunch of pool swims with the goggles about 3000 yds, mostly freestyle but some butterfly and breast, about 20yds into the swim set the leak begins from the bottom.  I didn't bother taking them to open water, since it I doubt that it wouldn't leak there too.
Magic5 Customer Service reached out, offered a new set of Goggles. Result of second googles…
So after customer service found out that I was unsatisfied with the original goggles, they offered me a seco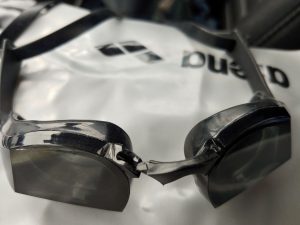 nd set. I took advantage. I re-scanned my face (This time with their improved Android App which has vastly improved since the first time i tried it), then waited for my new googles to arrive. Which they did, quickly .
But much as the first time, the fit was fine, the goggles were optically very clear, but again they were not leak-proof..  pretty much like my original pair, the seals around my face still allowed water to creep in.
But a bigger issue I had with the second set of goggles, was they changed the design of the nose bridge and made it weaker, and after just a month of use the nose-bridge  plastic tabs  broke!  that hold the nose bridge spacer .   Really this is shoddy plastic around a high-stress point and I was very disappointed , so my $70 pair are now worthless,  I suspect I could once again ask magic 5 to send me another pair, but unless the improve the design and fix the nose bridge flaw..  I don't see the point.
Conclusion
I  really, really wanted these goggles to work, I literally dreamed of being able to swim one day without the annoyance of water impeding my vision, but short of wearing a full face mask, It didn't happen. So here's how I would break it down.
Pros:
Decent quality and sensible styling design
excellent fog resistance
nice wide side viewing angles,
good for  open water visibility
good responsive customer service (for me as an early buyer)
Cons:
not entirely leak proof
adjustable nose bridge clip design can come undone too easily or break
cost $70 a little too high..
My gut feeling  on the reason for the leaks  is that the custom made/printed seal material, whatever process (3D printing? injection molding? extruding? )  material they are using, simply doesn't have good sealing properties because of the nature of how it has to be manufactured (printed?).
As I mentioned above they feel "hard" against your eye socket and lack the softness of a typical silicone style gasket (such as a TYR goggle which uses a much softer seal compound), means its more rigidly affixed to your face, but  I suspect a softer/gripper would conform better to facial contours possibly forming a better seal.
I want to stress this is my experience, its entirely possible my pair of goggles had some weird manufacturing defect or my scan didn't get uploaded properly or some sort of other technical explanation.
Supposedly they have many testimonials on their website, from world class swimmers and triathletes, that really advocate for these goggles. So take my review for what it is one, individual with one two set of goggles. If your the owner of a set please feel free to share your comments below.
I  applaud Magic5 and their founders for thinking outside the box and really offering an innovative solution for an age-old dilemma, and even though my experience wasn't the most convincing I'm glad to know there are options out there, and I do believe future refinement of this custom process will eventually lead to leak-proof goggles for everyone.