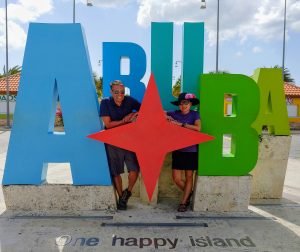 My annual vacation posting. This year's trip was to the island of Aruba one of the Dutch Antilles islands (the other major ones being Bonaire and Curaçao) .
I'll keep this short as there a tons of travel blogs out there that do a much better job of providing a more complete review of an Aruba (check out TripAdvisor).. So here's my very brief bullet points.
Aruba things of note…
Aruba is outside the Caribbean Hurricane belt so it's a perfect place to visit any time of the year
Aruba has strong tradewinds which blow all year round, so be prepared for constant wind. Which is why it's such a great windsurfing and kitesurfing location.
Aruba has 365 days of sun, virtually no rain, along with no hurricanes it's a guaranteed sunny Carribean destination
Beaches have a wide variety of sand conditions from powder soft to coarse. Beaches are clean and beautiful clear turquoise water.
It's a small island, you can travel tip to tip in about an hour
Language is Dutch and Papiamento (a mix of Dutch,Spanish, Portuguese)
Divi-divi trees grow sideways because of constant trade winds
Native population is a diverse group of Dutch, south Americans,other Carribean islanders and Asian (Chinese) ethnicities.
Very safe to explore, very visible police presence.
Drivers mostly follow rules of the road, be prepared for lots of round abouts and off road vehicles and ATV's sharing the same roads.
My Aruba video highlights