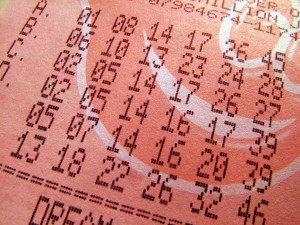 How many of you out there have heard of the Powerball ? Megaball? MegaMillions? or any other of the hundreds of lotteries and games? now, how many have heard of prize-linked savings accounts? Not many, there's a simple reason, that's because they don't really exist here in the U.S. (there are a couple experiments see below) and only exist in a few parts of the world.  Its a fantastic idea to encourage savings, possibly win a few bucks in the interim and overall encourage sensible financial decisions, instead of carelessly throwing away money on a "dollar and a dream".
What are Prize-Linked Savings Accounts? (PLS)?
Prize Linked savings accounts, are  type of bank account that allows you to automatically participate in a "lottery" by having a funded savings account. Instead of the bank giving you interest every month like a traditional account, your interest is pooled into the lottery fund with the other account holders interest. Then periodically (monthly or weekly) , winners are picked and the funds distributed to their accounts. Didn't win no problem you still retain your principal.
Michigan is one of the first states to try this concept. It has a program known as 'Save to Win," which is  credit-union run, holds $8.5 million in prize-linked accounts, has 11,500 current account holders and an average account amount of $735. Its official website also notes that in 2010, prizes totaling $162,042 were awarded to 2,080 members. Others have also proposed the idea of a prize-linked savings account as well.
Its a fantastic idea whose time has come..
 State Lotteries:
Here in the US , most states are the sole monopolies for lotteries , they legally have enacted laws that prevent anyone else from running any kind of gaming that may compete with them. Sadly state-run lotteries, which are generally used to fund "Education" and other state activities, really prey upon folks who can least afford it. Many have equated these  lotteries with a "tax on the poor", it's often disenfranchised and economically disadvantaged folks who tend to play most of lottery systems, in the hopes of hitting it big. I think Dave Ramsey said it best when referring to lotteries:
If lotteries worked, rich people would pay poor people to stand in line for them .
The reason states have been resistant to permit PLS in a few places where some trial runs took place has mostly been the fear that their cash cow lotteries would be compromised in their ability to continue to draw in new funds. While its possible that PLS would cannibalize lottery receipts, isn't the overall economic benefit of encouraging folks towards greater savings more important and in the long run beneficial?
Why can't we have both?
The one thing I don't understand is why don't the state's simply allow PLS , in addition to their normal lottery system. I'm not one to say the state's should be deprived of their revenue, but I also believe its unjust not to allow a much more socially beneficial and economically friendly system to co-exist with the current established state lotteries. It smacks me of government not by the people, but by special interests.
What are you thoughts?
You can also find an interesting freakonomics story here .. that discusses this top here.
Sources: http://www.daveramsey.com/article/how-the-lottery-can-ruin-your-life/lifeandmoney_other/
Cited from: http://www.gobankingrates.com/savings-account/could-a-lottery-savings-account-really-work/#ixzz2JWon1Eg
3