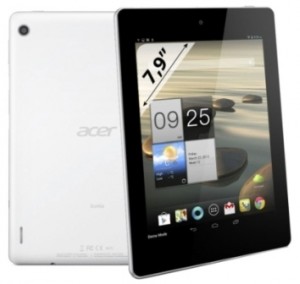 Update (12/2014) Iconia A1- Model 830
I recently picked up the successor to the Iconia A1 810, the A1 830, this is a bit of an improved model, The form factor stays the same 7.9″ 4:3 aspect ratio. What's improved is the chassis, is slimmer and more premium feeling, the processor has been updated to an Intel atom, and the front facing camera is increased to 2mp , plus it sports a pretty nice IPS panel, you can see Acer's own  video below featuring some of the highlights:
https://youtube.com/watch?v=uvomuLpT-1s%3Fversion%3D3%26rel%3D0
Overall I like this one more than the original, the screen is better , it's slightly faster, and if you update the table to the latest OS available (4.4.2 Anrdoid Kitkat), Acer actually gets rid of a lot of the crapware that comes with it stock out of the box..
I only have two issues with the A1 – 830 model:
Battery life: Its around 5+ hours with solid use, maybe 6/7 with lighter use, unfortunately for a tablet very similar in feel to an Ipad Mini its battery performance is poorer..
Touch Screen: While the display itself is very sharp with excellent viewing angles, the touch screen has responsive issues, and misses touches about 5~10% of the time, this is likely a hardware issue and sadly takes away from an otherwise pleasant experience..
There's an even newer model the A1 840, with even more  improved specs, but I'm disappointed because they changed the aspect ratio to 16:9 , and this means its less of a tablet for consuming web and reading material (which is while I like 4:3 ) and more of a video tablet like every other Android tablet, so while its specs are improved it lacks the form factor that attracted me to this device.
The best part of the A1 830 is if your lucky you can find it a very good discount, for example get an Iconia 830 refurbished at Walmart for $90 .
Acer Iconia A1 Model 810
I recently picked up an Acer Iconia A1 (model 810) android 7.9″ tablet (aka an 8″ tablet).  This is my second android tablet, after my first generation Nexus 7 . I mainly was interested in this tablet because I wanted something about the size of an Ipad Mini (7.9″) but an Android device and the price made it a steal under $170. Specs wise this is a mid-range tablet (for 2013 timeframe) , it has a quad-core 1.2Ghz processor and a modest screen resolution.
Acer and Asus (different companies, same country Taiwan) are both decent brands in the android tablet space. They both have several models and Asus is the manufacturer of the Google Nexus 7 line.  Acer has been in the laptop space for a very long time, and also makes Windows 8 tablets.
The big advantage of this tablet and of Acer in general is that you get a great value, perhaps not cutting edge features, but solid strong mid-range feature set within a reliable package, and that's what this Iconia A1 gives us.
 What I liked:
First off the build quality of the Acer Iconia A1 is pretty good, a polished aluminum front and bevel and a white plastic back plate.  It has the usual headphone jack , volume rockers and microUSB port all where you would expect them.
Price: The best feature of this tablet is the price.  I challenge you to find a recent 8″ or larger quad-core android tablet for $170.. I'm not talking about the dozens of cheap Chinese clones and  android tablets you can find on Ebay.  But rather a quality name-brand device with real android, try it and see.. [Update] Actually Dell must have heard me they just released their new Dell Venue 7 and Venue 8 series of Android tablets similarly priced.
7.9″ 4:3 screen:  Almost identical to the Ipad mini this screen has a bit more real-estate than a 7″ tablet and also its 4:3 format makes it more pleasant for viewing the web and reading material as opposed to video which ath 16:9 favors for hd video. While the ppi is only ~162ppi, the IPS panel is easy on the eyes and the larger screen (compared to 7: tablets) makes it simple to see entire pages without the need for a lot of scrolling. The IPS panel is decent but the colors are not the most vibrant (See my con below)
Ports  &  Extendable capacity : This tablet did not skimp on ports or sensors, it has them all and then a few. It has WiFI, Bluetooth v4, microUSB (charger and data), plus it has a removable microSD slot (Expandable to 32 GB) , great for moving large photo and video files  from cameras or other devices. It also has a micro HDMI for output to televisions.. It has two cameras
Good Performance: The quad core MST 8125  (based on ARM 9) processor is very speedy and there is no noticeable lag or performance degradation. I haven't really used it heavily for games or such , but regular usage for Netflix, web surfing and light gaming has been on par with other recent tablets, I have used.
Useful Acer Features: Acer added a touch-to-wake feature into this tablet, so when the tablet it off, simply rest all five fingers on the screen and it will awake the tablet, unlock it and open a program you selected, comes in pretty handy. Also a similar two-finger press activates the camera.
Native Android experience: Acer thankfully has not decided to skin this tablet, so you get a native Android experience, also the tablet has already been updated twice to recent versions of the  Android OS (4.2.2 as of this posting).
Specs:
| Summary | Details |
| --- | --- |
| Screen Size | 7.9" inches Screen Resolution 1024X768px LED-backlit IPS LCD capacitive touchscreen |
| Processor | MTK 8125 Quad-core (ARM cortex 9) 1.2 GHz |
| Memory | 1GB RAM |
| Graphics Coprocessor | Radeon HD Discrete Graphics |
| Storage | 16GB  + external SD slot available up to 32 GB |
| Radios | Wi-Fi 802.11 b/g/n – Bluetooth V. 4.0 |
| Sensors | Accel. – gyro – GPS – Camera 5Mp (rear) VGA (front) |
| Ports | 1 micro-USB 1 HDMI 1 Speaker/Mic |
| Battery Life |  Non-removable Li-Ion 4960 mAh battery (18.6 Wh) |
| Weight | 400gm (0.88 lbs) |
| OS | Android 4.2.2 Jelly Bean |
What I didn't Like
No to some of the things that were a bit of turn off for me.
poor low sound speaker: This is probably the biggest shortcoming of this tablet, the one rear speaker is woefully under powered, and only with the sound at MAX volume can you hear clearly. Not sure what Acer was thinking, but having a reasonably sounding speaker is pretty important in a tablet..
Poor quality VGA (front facing camera). The front facing camera is pretty crappy, very bad in low-light and the resolution looks dated (VGA that's like 640×480, great if we were still in the 1980's ) , most tablets have at least 4x that resolution, akin to 1.2mp front facing camera.. so don't expect many quality Skype sessions.
A tad thick. Not the slimmest design it's about 11mm  thick (vs. 7,2mm for an Ipad mini) , nothing horrible just a little pudgy, but I'm nitpicking..
IPS panel colors.  The IPS panel resolution is fine and the display is of good quality, but the colors do look a bit "yellowed" out, they don't quite pop like an Ipad mini IPS display. nothing major, just not as vibrant as some other higher quality displays.
Acer Crapware: Like most manufacturers Acer  loads a bunch of  of non-removable  utilities  and demo software on this tablet. Acer uses pretty much stock android so you don't need to deal with a skin but the crapware like McAfee Security and unmovable games are there.. I suppose one can root the device and remove games that way but that's a lot of hassle to remove a few unwanted apps.
Acer Iconia A1 (video Review)
To see a video of  this tablet and  for a  more complete in-depth view  review visit the link below .

Overall Thoughts…
I still haven't used it long enough to to give it an unequivocal thumbs up, but the little that I have, I feel pretty happy with its performance. I prefer the larger 8″ screen with its 4:3 form factor for reading and even watching videos over the 16:9, it just seems like it fills out the screen better. I like the decent battery life, and the performance is on par with most android tablets on the market today.. . and of course the price is an absolute steal it retails for $199 , but you can find it for under $170 in several places (Amaon, Ebay ) .  So if your in the  market for a tablet, can deal with some of its short comings (poor speak sound), the Acer Iconia is a very good value for the price..