This year, because my usual spring half had a conflict with Cherry blossom 10k I decided to do the earlier Love Run half marathon in Philadelphia.
Love Run half Philadelphia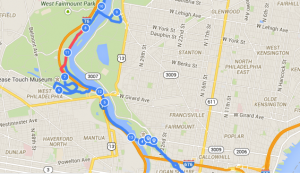 The half-marathon course, is very similar to the Rock-n-Roll Half marathon in Philadelphia, it starts off at the foot of the Art Museum and then goes towards the river for a few miles before doubling back and wrapping itself around Farimount Park for the most of the run, and finishing back at the Art Museum.
For those that are not familiar with Philadelphia, the Art Museum  is famous for the scene where  Rocky in the movie runs up the steps,  , and it has been featured several other times in the Rocky series. There's a statue of Rocky  near the steps and is a very popular tourist site.
Too cold for March..
It was 26º F a the start, it was a a bit windy so even with gloves and a cap until we started running, its was just darn cold standing around… This was the second coldest race  (maybe NYC half 2013 was colder ) . But at least we had nice sunshine and Philadelphia is a great city to run in..  This year Duncan did this race, Christine with her pending back issues  was not racing and as doing photographer duty.
Race Start
This race  has about 10,000+ entrants and is a decent sized race for being only in year 2 of its running..  The race started at 8am and after a walk to the start line, we began a nice comfortable pace.
It was pretty crowded for a few miles, and Duncan and I ran side by side for about 5 miles. Because of the bunched up crowds and not having any interest in pushing it , we ran a relatively pedestrian 8:45 pace through the first five miles,   In retrospect it was a bit too slow, will need to pick it up in the future.
Mile 5.5 the first hill.
At the 5.5 mile mark we encountered the climb on the course, its a snaking road up out of Fair-mount part and towards the Touch Museum. There's a water statio nat the base of the climb and it here that I pulled in front of  Duncan a little. Near the to of the climb I was passed by a lady runner who ever so slightly kept moving forward, I liked her tempo, and used her to set the pace for the next five miles…
Miles 6-11
this was the strong part of the race for me , following my "pacer" I managed to keep moving forward at a decent clip, until mile 9 another slight climb up over the bridge. On the was back down the bridge I passed my pacer and was sure I had a sizeable gap on Duncan. But it was not to be, approaching mile 10, Duncan
came up besides me and encouraged me to press on, but I was spent at that point.
the Finish
The last few miles while not as bad as my last half were not terribly strong. Im actually surprised I hung in there through mile 11 , usually after mile 10 its all downhill. But nonetheless my right calf was flaring in pain as I approached my 13,  seeing the overpass indicating that the finish was just 0.1 mile away, I trudged along . The crowds were a little lighter this time considering the bone chilllng cold , but there was still plenty of enthusiasm at the finish.
Overall I have mixed feelings about this race. Im surprised how good I felt in the mid 6-11 miles of the race, but also disappointed how slow the early miles were.. I need to keep things in perspective, I'm running as good as I can expect putting in less on average about 15 miles/week of training..
As usual it was and it was great seeing Duncan and his family, always a fun and friendly rivalry..I'll see him again in a few weeks at Cherry Blossom 10k.
 2015 Love Run Results
| Name | 5k | 10k | Finish |
| --- | --- | --- | --- |
| Duncan. | 27:34 | 55:42 | 1:53:20 |
| Tony | 27:34 | 55:29 | 1:57:25 |