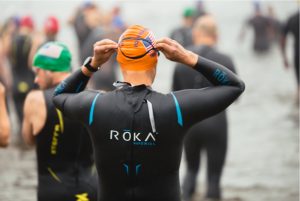 This weekend I took part in the 2017 edition (35rd Annual)  Wyckoff/Franklin Lakes  triathlon.  This is a "Sprint-Lympic" distance race. Its a  800m swim, 17 mile bike and 5 mile run. Weather conditions were overcast and foggy at start, but overall comfortable. This years event again was less crowded and did not sell out less than 500 participants, interesting how this race has had lower and lower turn out last few years. I had the good fortune of my friend Christian joining me and doing photo duty and his photos below speak for them selves, really excellent quality and a great eye for the event.. Check out his website (cvargasdigital.com )  and photography.
RACE REPORT Abbreviated.
I spare readers the long boring details of this race report, looking at my results below you'll see there is nothing to "write home about" , this was my worst performance. I kind of brought it on myself, by doing a brick session the day before the race, and strained my lower left calf muscle, hoping it would be healed by race time (it was not), it pretty much hobbled me on all the run segments  run, I was almost a minute per mile slower… and transition times was about a minute off too..
In any case the swim was uneventful, but pace was off for me, I didn't feel relaxed enough in the water, I decided to use the Roka full wet suit, but that coupled with my limping to T1 cost me almost an extra  minute in T1.
Bike wise I felt pretty good, the Shiv performed excellent, felt fast and stable on the descents, but my lack of bike training miles a whopping total of 161 miles YTD , with very few climbing miles, meant when I hit the hills I didn't have the normal energy to power up them.. but I cranked it out my best on the flats and fast descent sections, with the overcast skies and early morning fog, it made for a nice ride, I'll post the video shortly..
Then it was onto the run, and I knew I was going to be limping, right out of T1 , I felt the sprain of my lower left calf muscle , so I was running with a very strange gait and managed to barely do sub-10:min for most of the run, the first mile was the worst as I tried to ignore the pain , I knew  I wasn't going to push it, probably should have walked the whole thing, but I was stubborn and decided to tough it out.. The pain eventually subsided a bit as my brain adapted to the sensation and I continued the run course. Was glad to get to the top near mile 3.5 and from there it was onto the finish..
I hobbled to the finish line, but the gang was there and Christian again did a great job of getting some amazing photos…  Also had a chance to cheer on Brittany who was participating too. Anyways ,definitely not a banner performance, but as always it was fun. Photos courtesy of https://www.cvargasdigital.com/
RESULTS
Better luck next year… .
| Year | Swim  (800m) | T1 | Bike (17mi) | T2 | Run (5mi) | Finish |
| --- | --- | --- | --- | --- | --- | --- |
| 2017 | 17:13  | 2:42   | 51:45  (19.7 mph) | 2:11 |  48:45 (9:48/mi) | 2:02:35 |
| 2016 | 16:20  | 1:58   | 51:41  (19.7 mph) | 1:48 |  43:51 (8:46/mi) | 1:55:38 |
| 2015 | 17:13  | 2:14   | 54:06  (18.9 mph) | 1:43 |  44:48 (8:58/mi) | 2:00:04 |
| 2014 | 16:44   | 2:18   | 50:27  (20.2 mph) | 2:46 |  43:34 (8:43/mi) | 1:55:49 |
| 2013 | 17:21   | 2:04   | 50:46  (20.1 mph) | 1:45 |  42:21 (8:28/mi) | 1:54:17 |
| 2012   | 17:56 | 2:28 |  50:41  (20.1 mph) | 2:01 |  44:21 (8:52/mi) | 1:57:27 |