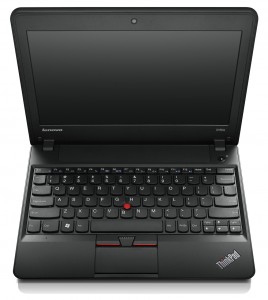 So about the time I upgraded to the now less the great Lenovo U400 I also found a great deal on Lenovo's outlet site  for a Lenovo 11.6″ x130e. This little rugged laptop is practically a net-book , but it's larger 11.6″ display coupled with a sturdy proven design, appealed to me for making this my portable PC. It's definitely been built with rugged use in mind, and its something I like to keep in my car or toss around my  backpack.
The Lenovo X130e
For a complete in-depth review visit this CNET's x130e  review  site . Basically the Lenovo x130e is an upgraded version of their  earlier  x120 and x100 series of small notebooks. The x130e  , the e designates it as an education focused system, its mostly designed as a  small durable laptop that can be used in the classroom. It has enough of the basics such as drive capacity, screen size and cpu to be usable as an everyday laptop, but still having many of the no -nonsesne Thinkpad attributes such as a great keyboard keyboard, clean and durable design to make it a true Thinkpad.
 What I liked:
First off it's its clearly a Thinkpad, looking at its jet black case and is matte screen (Woo Hoo! no glossy screen)  plus the well appointed chicklet keyboard, it screams Thinkpad, and indeed it is one.
The best feature of this laptop is its looooong battery life , is 6-cell Lion battery is rated at 9.2 hours, I can regularly get 6-8+ hours, mostly thanks to  the AMD  E-300 battery sipping cpu, this also turns out to be its least desirable since performance can suffer. But overall its a very usable machine and nothing is more impressive than just being able to work, surf the web or do anything else on the laptop without needing to be concerned about plugging it in. And the battery is removable if needed.
The keyboard is fantastic , unlike the U400 I had earlier, this is a true Thinkpad keyboard its very comfortable, full-size and ergonomic, Lenovo Thinkpad keyboards are the best hands down.
The built in Lenovo anti-shock HD accelerometer works well and you can feel it park the hard drive when it detects a sudden shake or movement, comforting to know, if you ever dropped this thing it wouldn't result in a hard disk crash.
Because this is a partially ruggerized laptop, it has a thick strong hinges, that  will easily last the lifetime of the laptop, plus its thick rounded rubberized bumper case means it can take a beating, coupled with the aforementioned  HDD protection, this is the machine you want to take on our next trip, no matter where it takes you. Keep in mind this was designed for K12-College educational market so its designed with a little physical abuse in mind.
Full array of sensors and ports. For such a small laptop, it comes complete with  HDMI port,,2 x PoweredUSB 2.0 (one designated for charging , I fully-charged my cell phone on a flight cross country using its port), Bluetooth, WIFI (b/g/n)
Headphone/microphone combo jack,HDMI,USB 2.0,VGA,LAN, 1.3 webcam and 4 in 1 card reader
Linux Friendly. This laptop can boot Ubuntu, Linux mint right off a USB stick without any issues, no kernel panics, nothing it just runs smooth. I can also use Linux mint WUBi to setup a version of linux and dual boot without the need to partition my drive. , very nice.
| Summary | Details |
| --- | --- |
| Screen Size | 11.6" inches Screen Resolution 1366×768 pixels |
| Processor |  AMD E-300 1.3 GHz |
| Memory | 2GB DIMM upgradeable to 8GB |
| Graphics Coprocessor | Radeon HD Discrete Graphics |
| Hard Drive | 500 GB HDD / 7200.0 rpm |
| Port | 2 USB 1 HDMI 1 Speaker/Mic |
| Battery Life |  6-cell Lithium ion  9.2 hours |
| Weight | 3.9 lbs |
| OS | Windows 7 premium 64-bit |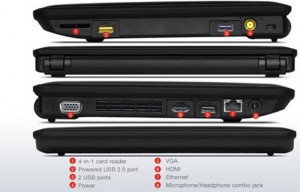 What I didn't Like
No to some of the things that were a bit of turn off for me.
E-300 and E-450 AMD cpus under powered. One of the first pain points using this laptop are the feebly powered CPU. The X130e can be outfitted with either an AMD e-300 or e-450 or Intel i3. The model  I have has the lower-end -E-300 AMD and its clearly under-powered  running Windows 7 everything seems slow and  screen updates or launching programs are very sluggish.  Take a look at the task manager you can frequently see that the CPU is pegged at 100% even doing modest work like surfing the web or watching a video.  The case for this is likely the architecture of the AMD E-300 , it's designed to sip battery power and thus has been optimized for a few key areas (media / video playback) and lower-power usage, this becomes all too obvious when you launch a word processor or a  spreadsheet or just a few open browser windows, everything is unbearably sluggish. My suggestions spring for the Intel i3 or AMD E-450  and trade some battery life for a more usable experience.
Heavy for a 11.6″ latop:  This laptop does have some bulk, while it's only 11.6″ thanks to all the removable and upgrade-able features and especially is rugged case design it tips the scales at 3.9 lbs, pretty beefy for a small screen laptop. The trade-off here is a svelte light chassis for a durable beefy one .
Lenovo Crapware: Like most manufacturers Lenovo loads a bunch of not necessarily useful utilities  and demo software on there machines, a little less than say dell or hp , but still there is the obligatory MSoffice trial and anti virus trial which I promptly removed.
Overall Thoughts…
Overall I love this little laptop, I find myself using it more than my Dell XPS 14″ . Its just so adorable, yes adorable, because I can toss it in my bag and go, i can throw it in car and go, I can basically use it as a true mobile laptop and its always ready for action. Sometimes I need to be patient, but most times its ready for action.
In conclusion the Lenovo X130E  is a decent little laptop machine with an under powered cpu but more than makes up for it with  great ergonomics and an unbelievable battery life.