This is my second attempt at the 70.3 distance, having done the  2012 Amica 70.3 Ironman in Providence, Rhode Island.   I choose this 70.3 because after last year's tough Providence Rhode Island course, I felt this flatter and hopefully faster course will suit me better.  Good thing I did because they actually discontinued the  70.3 Ironman in Providence, Rhode Island race.
Venue
The race is held in Cambridge, Maryland in Dorchester county , basically in rural Maryland. The course being known for its flatness, is also known for not having any shade on the bike or run and occasional headwinds. This race attracts a lot of big name Pro's, and generally always se
lls out due to its proximity to DC, Baltimore, Philly and Jersey, it's the closest 70.3 in this region.
Pre-race
Like most Ironman events, there is an expo the day before, I picked up my bib and timing chip as well as browsing all the fitness products and taking some photos with the pro's.
Race morning as with most of these long course races, I got up at 5am then drove down to the race start. Once there it was just a matter of going to the transition area. As usual there was a buzz of activity as everyone began to prepare the transition area. The pro's where there and womens favorite Miranda Carfrae can be seen at the mechanics tent doing a few last minute adjustments. I got my gear out of the bag, and prepped my transition area. The ground was pretty wet from heavy rains the day before, so I expected there to be some mud..
The pro's started first at 6:45a , and my wave , one of 22 waves went out at 7:30a. So I had a chance to see the pro men's swim exit, and as usual Andy potts came out first.  Then it was my turn to go in..
Swim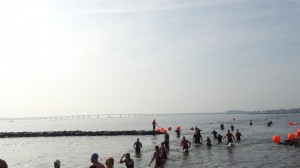 The swim in Chopak river was on a nice calm bay , with a simple clock-wise rectangular course. .  This was a wetsuit legal swim and the river being calm seemed to point to a fast swim for me. The horn went off right on time, and I began, just a bit of jostling in the beginning , nothing too bad. I then decided to go to the right of the yellow guide bouys, this way I avoided the bulk of the swimmers and maybe smoother water.  Things were progressing well, but I think my right side  navigation of the buoys may have caused  me to swim extra distance. After the 2nd red (90 degree turn buoy) ,  because of low tide you could stand up there, I wanted to do a Dolphin dive, but I felt a slight tinge in my right calf, the beginning of a cramp. I continued to swim sighting the big swim exit inflatable, as I got closer you could here the crowd and  I pushed even harder, when I reached the shore, I went to get up and my left calf completely cramped, I fell back into the water onto my back and tried to massage the cramp out then limped, to a very disappointing  43min swim , I don't know how that happened. when last week i swam this same distance at  1.2 mile swim I did 31min .. Maybe navigation or currents… I was horrified when I looked down, . I bet the video Christine took is is pretty hilarious…
Bike
After a less than fast T1, I headed on onto the bike course, this was the flattest, I mean flattest bike course you're likely to find in any Ironman race. I settled into a groove and felt pretty comfortable on the bike,  no pain  or cramps. So I slowly picked up the pace, and the excitement of the race  kept pushing my pace faster and faster. I moved up from 20.8mph at mile 10, to 21.2 at mile 15, to 21.8 at mile 20, and was still at 21.3mph average at 30 miles. I felt strong on the bike thanks to the flatness of this course, but I had a sinking feeling I was pushing too hard.
At mile 33 A P5 slowly passed me, and while admiring the slick TT bike, I drifted back slowly from the rider, I decided to hang onto his wheel for a little too long, the course referee on the motorbike came up to me,showed me a red card, and  jotted down my number and gave me a 4minute drafting penalty.  I was caught red-handed, I was clearly drafting and had to accept the just decision. That took a little wind out of my sails, but I kept on..
The remaining 26 miles were not as fast , only averaging 19.0 . Around mile 40 I saw Mirinda Carfrae on the side of the road with some sort of mechanical issue, I guess that was the end of her race.  I came into transition, and stopped by the penalty tent, to serve my four minutes..
then it was back into transition through the mud (there were heavy rains the day before the race, and transition was pretty muddy)   into T2 . i struggled to find my rack because with 2700 bikes, and all sorts of gear strewn about, it became a challenge. I finally did, donned my running gear and off I went.
Run
Then the hurt locker opened right after mile one on the run , the fatigue and exhaustion of the bike ride plus renewed calf cramps.. Reduced me.to.walking and I never recovered . I got a serious ass kicking.. I tried a couple of feeble attempts at a strong jog.. But those did not last long.. From mile three to 10 it was a mess of walking , complaining and cramping.  Cramping got real bad after mile 10 and I hobbled to the finish in a disappointing time. By the time I crossed the line I had been reduced to a hobbling mess, my calf muscles were spasming, and encouragement by the crowd did little to relieve my cramps.. but I finished.. 6:41 ..very disappointed… not how I wanted to finish..
 Post Race
I walked to the line and after getting my medal and cool towel, I plopped myself on the grass, my right calf was spasming as the cramping was very pretty bad , my left calf was pretty bad as well.  I lied on the ground  for a for a few moments exhausted, and in pain.. Besides my cramping calves, my feet were pretty mangled cuts and abrasions, running in my Newton's without socks was not a smart move.
After a bit I recovered , cheered on some race finishers, helped our new friend Wei and Sebastian, and got a chance to take some photos with the Pro finisher's.
Overall it was a tough day, I need to do some serious work on my pacing and deal with my cramping situation before I try this again. now sitting here in the comfort of my couch, it seems easy to
Race Winners
Lots of big name pros showed up, particularly in the womens side ( Kessler, Carafe, Naeth, Bennett) ..
Andy Potts won overall in 3:47 ..
Women winner was Angela Naeth.

Race winner Andy Potts was a great ambassador to the sport, handing out finisher medals and congratulating the finishers, he was very approachable and kindly took a few photos with Christine and myself.
Race Lessons
Pacing and respecting the 70.3 distance: I really need to work more on my pacing and realizing that this distance, is a serious challenge, and you can't just plow through it.
More brick sessions: I need more work on the run when I come off the bike, I can't come off the bike in these events and totally disintegrate on the run
Run with socks. I need to run with socks on these longer courses. There's no excuse for me not using them.
My bike performance was excellent, but i may have pushed too hard.. but I was happy with my on the go water refueling and my new tri shoes.
Race Photos