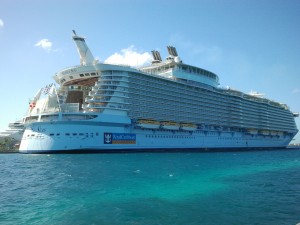 Having recently come back from a cruise vacation I can share a few brief tips that can save you a few bucks and make for a more enjoyable trip. Modern cruise ships are really floating 4/5 star hotels in the ocean. The ship we went on the Allure of the Seas (Royal Caribbean) is the world's largest cruise ship (here's a nice comparison infographic relative to the Titanic), so its a really big floating hotel at see over 5000 passengers and about 2000 crew… but it does have everything from Broadway themed shows,casino, to zip-lines rock wall  and surf pools, mini golf , and too many food and restaurant choices to count.. like I said a hotel at sea.. so here are some tips if your considering a cruise.
Its not really all-inclusive….
On of the first surprises, is that even though your cruise fare includes the cost of accomodations and food a lot of additional costs are not included. Want soda (need to buy a soda package), need alcohol (need to get a beverage add-on), want to dine at certain restaurants, need to buy additional package, want to do a shore excursion, that costs extra too. Some of the costs like shore excursions you can understand, but many of the on-board .
Flexible schedule / last minute can save you big time.
One tip we heard repeatedly was that if your schedule allows it, and you can book a trip last minute (aka within a week) you can find amazing prices. The reason is simple, cruise ships, need to fill up as much as possible, and as the sail date gets close un-used or unsold cabins are deeply discounted in hopes of luring more passengers. So if your work or leisure schedule permits, check out this site. http://www.lastminutecruises.com/  or http://www.vacationstogo.com/  for some interesting last minute deals, some start as low as $149 (3-nights to bahamas from Port Canaveral),maybe  if you're in  Florida traveling and can spare three days and the timing works check it out.
Modern ships and calm seas make for smooth sailing
I generally don't get sea-sick, but I'm not  immune to it. Generally the weather has the most to do with it, if you're sailing into calm weather , large modern cruise ships do a pretty good job with ship stability via a variety of designs and systems.  If you may be prone to sea sickness the best place to get a cabin is in the middle of the boat where the oscillations are the least (near the fulcrum) , just like on a a swing if you sit close to the center you hardly notice the motion. if you do get sick there's usually an infirmary on board with a doctor that can prescribe some meds and alleviate your symptoms.
Explore the ship…
A large  modern cruise ship has lots of interesting activities be sure to try them out, most are included in your fare, and some of them are pretty unique experiences . Cruise ships are getting more and more creative with their list of activities.
Shore excursions, think short-day trips…
One of the things that I did like a lot was getting off the boat at various Caribbean islands, it's actually relatively easy and quicker than I though to disembark and re-embark when your docked. I kept picturing long-airport style waiting lines to get off or on the boat, but getting off is nearly instantaneous, they scan your seapass card and that's it. Getting back on is a little longer (security and validation) but not passport or customs to deal with (at least not where i went).  With that said most cruise ships only stop at a port for a day (8-12 hours) , so realistically, you can only do so much, keep that in mind when booking excursions. Also if you want to explore a particular location more, look into some cruises that actually stay docked for a  few days to a week.
That's it, it was a good time overall, and Royal Caribbean has a first class operation, but I think I still prefer a large all-inclusive resort (with booz) and time to hit the beach  whenever I desire.