Race Nyc Half '13
The NYC 13 half is  popular half marathon run entirely within Manhattan in NYC. Its a very popular pro race as well  with over $100,000 in prize money (richest purse for half's in the US) , with  $20,000 for both male and female winners.  Its also a very popular early season warm up race to the Boston marathon. This is my first time doing the event and I was pretty excited  The race attracts a lot of folks from all over and while not as big as the full nyc marathon (full nyc marathon in the fall has almost 50,000 runners)   15,000 is still a lot of runners.
The course
The race begins on the west side of Central park around 64th street , then runs counter-clockwise through central park all the way up to 110th street , then turns back south until we exit onto 7th avenue, that's about the 10k point, then we run down 7th to times square, and turn left onto the iconic 42nd street , from there we run onto the west side highway before heading south down through canal and WTC area  before turning for home and finishing at the south side seaport.
Race morning
We got up early around 4:30. Ate a light breakfast, granola cereal , peanut butter toast, coffee and for gatorade.  to avoid any traffic snafus. Picked up our friend Devang in North Bergen than parked in  mid-town  before taking a short subway ride up to Central parked.  Christine, was clearly still recovery from a bout of the cold/flu and was not in competitive shape
One we got to out stop, we all huddled inside the subway station for a bit, knowing it was very cold out side.. When we did emerge it was way too fkn cold 30° f , brr I had gloves two technical shirts and shorts with compression socks but.was still freezing its just ridiculously cold for this time of year mid-march and its like early January..
We wished Devang well , as he is a very strong runner and went into the earlier corral, and then went to our prospective corrals  All the runners like us, were shivering,bouncing up and down , trying to stay war.  it was brutally cold the snow and frost where still on the ground in Central park!
The Start .. its to0 darn cold!!! 30F degrees!! that's all i cold think of.
Still shivering all the runners were commiserating with each other was we awaited the start. NYRR is a master of race organization with loudspeaker announcements and carefully orchestrated race management  When the start did happen we all just began  a slow walk  to the front where the start timing mat is placed.. Then its Go time!
Still freezing, officially the weather was  30 degrees, 64% humidity, wind W 7 mph, but the electricity of the start with the NYC crowd makes this an awesome experience, the social nature of these large races really brings home that life is to be lived, to the fullest and you only do that when you're shivering cold and about to race your heart with 170+bpm, pounding the hard streets of nyc for the next few hours. Crazy.. yeah that's what me and 14,999 other people think too!  I'll have plenty of time to sit at home in a nice warm rocking chair when I'm older…
at 5K Point
The race started slowly , Christine, still huddled under the mylar blanket , began slowly running, I stayed with here and slowly began my run. The road was salted as  there were clear patches of black ice on some surfaces.  The crowd at the start is great and we began slowly.  It was at this point I pretty much decided not to really push this race, and just enjoy the event and atmosphere.
So we jogged slowly (~9:00/mile) with Christine for the first few miles, after that  I decided not to look down at my watch , and didn't for the remained of this race.. I wanted to stay with here a little longer, but it became evident she wasn't having her race day today. And after her prodding for me to go on.. I decided to run at my own pace and increased my tempo.  The first few miles are gently rolling in Central Park, nothing to bad, as you approach the 5k mark the road sinks, then you hit the only real hill on the course which gradually rising and turning .
I didn't find this hill too hard (plus I I kept hearing my friend Alberto's tough love, "Quit your bitchn' , you choose to be out here, no one made you do this, athletes don't whine they push through!") , sure it requires a little effort, but its not terribly steep and if you manage your pace you should be fine. After you crest this hill about mile 4 there are a few more rolling segments. At this point I was feeling fine, starting to warm up a bit, and starting to pick up the pace a little more..
at 10k through Times Square
The 10k mark is just before the exit of the park onto 7th Ave. The crowds and noise here begins to rise. The day was cold but sunny and every sun-ray helped . When the race course finally deposits you onto 7th Ave. it's a straight shot down to times square… this is the highlight of the race. The road is all yours (only 2 times a year is Times Square closed to traffic, this race and New Year's eve) . Its awesome, the crowds, the cheering  the music , the signs and billboards, it really captures the essence of manhattan, NYC. I maintained my pace, and really just took in the event,I was really having a great run.
On 42nd Street
Once we got to 42nd street we turned right, to more crowds and cheers, again still enjoying the run, I was managing to keep a comfortable pace. As we moved further towards the West Side highway the crowds thinned a bit, and as we approached the Hudson a cold headwind reminded me of the temperature.  At this point the race turns right up one block then a final U-turn back down onto the Westside highway at about mile 8.
On West Side Highway Miles 8-12
Now its just straight south and flat. Along the  Hudson River, with still plenty of water stations (of which there are plenty on this course), I was just looking for mile nine, it came and went. West Side highway was mostly closed to traffic and runners could really spread out across the road.
The sun was higher now warming things up a bit… Coming up to Chelsea Piers on our right, by now the first signs of fatigue in my legs started to set in , right on schedule, (again I channeled my friend Alberto's inspirational message; "Quit your bitchn' , you choose to be out here, no one made you do this, push through!") I typically can run 10 miles before fatigue in the legs becomes evident.
I pushed through mile 10 and then mile 11 , right across from the new WTC building. I  definitely felt sluggish around mile 11, I took my last gulp of water from the aid station and tried best I could to maintain my form, but my pace was clearly slipping.  As mile 12 approached we began entering the Brooklyn Battery tunnel.
Once in the tunnel, you could feel the pace picking up, having not run this course before, I had no idea how far the finish was from here. I tried to maintain a stronger pace, but I was resigned to enjoy this race an not push it too much. Near the end of the tunnel the first sign the end is near popped up.
The 800m to go mark, yes! almost there, approaching the end of the tunnel you run up a short ramp and into a beautiful view of southern Manhattan skyline and the Brooklyn Bridge.. awesome view,now everyone is really picking things up.
The Finish!
Another sign 400m to go and you can see the runners up ahead turning left into the finishing area. After the left turn you see the crowds behind the barricades and then you see the runners turning right and a 200m at the sign.
Everyone at this point is amped up.. You make the tight right hand turn to the finishing area and you can hear the cheers the electricity and the excitement of the finish, then its one more smile for the finish line camera and power through to the finish line. Runners are finishing thick and fast and , with my hands raised , I crossed the line.
Slowly you move forwards with the sea of exhausted runners, as  you make your way to the medals, goodie bags and eventually finish chute exit , yeah it's like another half mile of walking and the crowds are thick, before you leave the race.
Overall it was a fun race, my time for me was average, I wasn't expecting any PR's or anything and was actually a little surprised I finished under 2:00 considering how slowly I began..  I had a great time. I waited about 20mins. before Christine finished in an uncharacteristically slow time.  She had been battling a cold/flu and the fact that she even run this race makes her a true trooper. Devang had an awesome run and ran an amazing 1:21  time wow, Devang congrats!
My Performance Details comparison
| Race Course/Event | Date |  Finish Time | Avg. Pace | fastest mile | slowest mile | Avg. HR |  Notes |
| --- | --- | --- | --- | --- | --- | --- | --- |
| NYC Half 2013 | 3/17/2013 | 1:55:37 | 8:50/mile | 8:03 (3) | 9:34 (1) | 158 bpm | Enjoyed race.. cold! .. lots of fun |
| Rutgers Unite Half  2012 | 4/22/2012 | 1:51:36 | 8:27/mile | 7:48 (3) | 9:22 (12) |  167 bpm | PR – half marathon |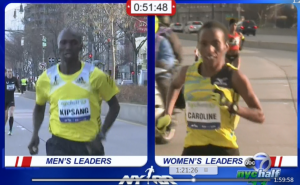 Race Winners
.. and in other news two Keynans won the NYC half '13 today.. Actually the race had a very deep professional field and was pretty even till the very end.
| Winner |  Finish Time | Avg. Pace |
| --- | --- | --- |
| Wilson Kipsang (Men) | 1:01:02 | 4:40/mile |
| Caroline Rotich (Women) | 1:09:09 | 5:17/mile |
Go here for professional field race news.
Lessons
All my race reports ends with lessons or things that I would have done differently or improved so here they are.
 Need better cold weather gear.: Need better running gear for cold weather such as this. I need true runners gloves and a hat, and perhaps outer layer.
Work on Mile 10+ fatigue issue:  I need to do more long runs.. It's hard to practice fatigue without actually running longer distances. Once the weather warms up I will.
Inventio-HD 720p Sunglass cam worked well: Many of the photos you see in this post came from video stills form these sunglasses cam. It works pretty well and the sunglasses are remarkably comfortable to wear. The only issue is there's not audio feedback when recording is turned on or off, so you need to peek at the indicator light.
Definitely will be entering the lottery again for NYC half '14.