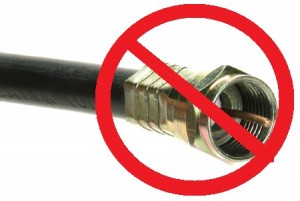 Cord cutting , is the act of ending a monthly cable or satellite TV subscription, it's one of the easiest disposable income items to remove when budgets get tight, because its something we can all pretty much define as a clear luxury.
There are many reasons cable and satellite costs are exorbitantly high, generally the reasons are because of conditions beyond our control (cable monopolies, content provider agreements , broadcasting licensing fees etc.), but in today's connected word we have more options than ever before.
The purpose of this post is to look at it from a practical point of view and see if I could still watch our favorite TV, sports or movies  via legal means   sum up the costs, and see how it compares to an average cable/sat subscription… Yes,  there are many  illegal on-line  sources for "free tv" , but besides their illegality, many other issues such as nonavailability, quality and access make them less than ideal choices.
Cord Cutting is partially a myth. Since you still need "corded" Internet
While everyone likes to brag about cutting the cord, the truth is if you have Internet , you likely have a cord in one fashion or another ; cable or DSL or fiber , some might be even by using a wireless technology like lTE or WiMAx. So technically, your not really cord free in most cases.
Cable companies charge a pretty penny for internet only "cable" and DSL when available is generally limited by speed (most DSL lines have an upper limit of 7 mbps limit in the high end, while most connections average about 3Mbps). This is the typical broadband  duopoly situation you are faced with in most areas. Some areas might offer fiber (ie. Fios from verizon) or even municipal fiber (ie. Google Fiber limited to Kansas City)or perhaps  BPL (Broadband over Power lines) , but it most cases it's just cable or DSL.
4G LTE, Wimax  or another broadband wirelss service could potentially offer true cordless experience , but bandwidth is generally limited even though modern 4g LTE speeds are comparable to home Wifi connections, they are still mostly used for mobile broadband with pretty restrictive bandwidth caps.. I expect the future versions of these services will truly have the broadband capacity needed to be truly cord free.
So my scenarios below will include the  costs of the internet, using a fairly pedestrian but usable DSL connection.
Over The Air (OTA) options
With the change over to digital TV (HDTV) a few years back, a whole new (or old) option, "rabbit ears TV"  is again back for serious consideration. Assuming your antenna can grab enough of the signal to make the OTA (over the air) channel watching experience enjoyable, having live TV most times with HDTV content and a decent selection of channels for free is a great choice.
The challenge here is getting good coverage. If you live in a major metro this shouldn't be a problem, just find the best antenna to grab the most stations, more remote locations will certainly face reception challenges.  Assuming reception is clear , this can be a source of great programming.
If your reception is less than stellar new services coming to the market like  Aereo available in 22 markets this year, will allow you to receive crystal clear TV on-line . There is still some legal wrangling (by ota broadcasters)  with services like Aereo but recent court decisions have gone in their favor and that may lead to even more market entrants.
Popular Programming Sources
Once your Internet provider is chosen, now we can focus on  on-line content options. As mentioned ota may suffice for some folks , but if your looking to get recent streaming cable tv shows or movies, you'll need to pick from one of these options.
Netflix streaming ($8.99/monthly), Tv shows, movies, documentaries, kids programming
Xbox Gold Subscription ($59.99/year) + Xbox Market Place recent Movies &  current TV shows (a la carte)
HULU plus ($7.99/month) , popular  TV shows from FOX, NBC, ABC etc.
Amazon Instant Video Movies and TV Shows (a la carte)
Playstation Plus ( $49.99/year  ) recent Movies and TV shows
Android Google Play , a la carte TV shows , movies and music
Apple iTunes Store, a la carte TV shows , movies and music
There are many more providers, such as Epix, Vuduu, even Wallmart and Redbox are getting into the on-line streaming game, but the options above are the big name providers right now.
Each of the above providers usually has a strength in one area or another (recent TV shows or movies or documentaries , etc) , and thanks to the byzantine arrangement  of licensing deals with content providers content access varies greatly among these  providers, so you need to first look at each of their offerings and see if it fits your interests..
Sports?  How much are you missing out
The biggest gap all cord cutters will face (if they are sports junkies)  is live sports or most sports related programming. This is one area the cable and satellite networks have fought voraciously to keep closed.
There's no secret here why neither the leagues or the entrenched content providers  (cable and broadcast)  are in no hurry to change the system, simply put, cable pays the major spots leagues multi-billion dollar guaranteed contracts for exclusive access to their sport. It's the reason mlb baseball, nfl football and nba players can command millions of dollars in salaries , most of it comes from TV rights, much smaller percentage from stadium ticket or merchandise sales.
Since it's the big cable, ota broadcasters and satellite companies that foot the bill for most of the expensive content deals with the four major sports ( MLB, NFL, NBA, NHL) plus a whole host of smaller secondary popular sports (golf, tennis, nascar and indy car, olympics etc.) , it's unlikely that this will change anytime soon. Only when the demographics and economics of on-line viewing shift substantially will we see more true on-line only  options..
Basically right now the big four sports offer some sort of limited on-line TV  viewing through a mix of traditional ota  and provider options and affiliated content (aka require cable subscription)  . Most are all over the map, and many have several restrictions on which devices you can watch them on , what games you can see etc.  So let me present some choices as they are available  today.
| Sport / League | OTA availability | Cable/Network Availability | ota popular games/events | On-line Only methods |
| --- | --- | --- | --- | --- |
| Baseball MLB |  mostly local teams and selected games varies by market | Yes | Playoffs – World Series – All-star game |   MLB.TV ($19.99/month) other options available |
| Football NFL |  most weekends  local teams and select games varies by market | Yes | Playoffs- Superbowl | No Live games NFL Game Rewind  ($24.99) all recently finished games |
| Basketball NBA | very few live games | Yes TnT network | Playoffs and Finals | no online option : NBA League Pass – requires cable. |
| Hockey NHL | very few assorted local games | Yes | Playoffs and Finals |  NHL Gamecenter live $49.99.annual |
| Nascar | major weekend  races shown on FOX Sports | Yes ESPN & TNT | Daytona 500; Firecracker 250;Southern 500 | |
| Boxing | Very few mostly non-title | Yes (HBO) or PPV | - | Popular fights mostly on PPV through cable |
| Tennis | Major finals games only | Yes | Wimbeldon;Frech Open; US Open | |
| Golf | Major finals weekend games | Yes | Masters; US Open;PGA tour | |
| Olympics | Yes | Yes USA &  CNBC & MSNBC; | Summer and Winter | NBC allowed on-line viewing live of all broadcast events but required cable package – WTF? |
Content Player  Options, Smart TV , Xbox, Roku, Playstation, iPad etc.
The next choice which player device to watch content from is actually one where you have a fair degree of options. Most people will choose the traditional  lean back experience of a big screen flat panel TV. Most modern sets offer some form of Internet connectivity, also dubbed SmartTV's. Typically with a  smart tv you get built in player that plays back most of the major content providers online such as Netflix, Youtube, Amazon Instant video etc..
Also there are a whole host of other connected devices that can play back these sources, such as iPad's , Android tablets, smartphones etc., but I will limit my focus here to LCD TV's as this is still the preferred medium for a relaxed lean back experience.
If your TV doesn't have such "smart tv" features you can always get a third-party box such the ones below, then hook it up to your TV to provide the Internet smarts it needs.
| Internet TV Box | Cost | Subscription required | Major Programming  Sources/Channels | other Features |
| --- | --- | --- | --- | --- |
| Boxee TV | $99.00 | no | OTA TV  shows and movies  also Netflix and Vudu | Cloud and DVR features |
| Roku HD | $59.99 | no | Netflix; Amazon Instant  Video; Hulu Plus .. many more | see Roku products |
| Xbox 360 | $199.00 | yes (Xbox Gold) | Netflix; Youtube; ESPN 3; Hulu Plus..many more | Xbox games |
| Playstation 3 | $245 | yes  | Netflix; Youtube;  Hulu Plus..many more | PS3 games |
| Western Digital's TV Live | $89.00 | no | Netflix; Youtube;  Hulu Plus..many more | |
| Apple TV | $99 | no – a la carte |   iTunes movies and TV shows; Netflix; youtube | Photos viewing and more |
| Tivo | $149 | yes | OTA DVR ; Netflix and others | DVR easiest to use |
| Google TV (Sony/ Vizio Box) | $169.00 |  no | Netflix; Youtube; Pandora; HBO Go; many more | Install select games (like Angry Birds)  and apps from Google play |
The choices above are the more popular ones, because this is such a hot area , there are many new ones entering the market and current options are constantly being upgraded.. Other options like Slingbox also have some Internet functionality but are more designed to work with cable and satellite systems.
Windows Media Center and Xbox perfect together
My preference is to use a full-blown PC running windows 7 and Windows Media center with  a  TV tuner card for ota TV  , plus an Xbox which acts as the media extender and smart TV box.  The reason for this setup is two fold.
Windows 7 Media Center offers a free electronic program guide, works with OTA tuner cards (and cable cards if necessary  directly, offers DVR capabilities, plus a whole host of other options. And frankly it's one of the best (albeit a bit dated) interfaces for watching and recording traditional programming.
The Xbox 360 , acts as my SmartTV box since with an Xbox Gold subscription (read more about it below), you can access Netflix, youtube, Vuduu, ESPN. Because of the raw computing power f the xbox  it's Netflix and Hulu Plus players are the best on the market. Plus it acts as a media extender allowing me direct access to my Windows Media Center, so I can stream live ota TV via wifi to any room in the house (that also has another xbox), plus offering photo viewing from my connected NAS drive. Those are big, big pluses and hard to match by another third party box.
So luckily for us the content player options are pretty expansive, and should offer a good choice to fit almost any budget or viewing preference.
Cord Cutters Costs Analysis
Now that I have presented the options let me me break down the cost options for the year. and see how the compare to a traditional cable. I will try to choose popular and useful programming and services and player configuration . Because of the wide matrix of  choices, the ones presented here only represent a small slice of the possibilities.  I will include a blank pricing spreadsheet , which you can use to  customize and figure  out your cord cutting options.
| Programming / Providers | Monthly Cost | Months | Yearly Cost | notes |
| --- | --- | --- | --- | --- |
| Internet DSL 3Mpbs(DSLextreme.com) | $34.95 | 12 | $419.40 | year-full of internet |
| Over The Air TV | $0.00 | 12 | $0.00 | popular local free Live TV |
| Netflix | $8.95 | 12 | $107.40 | streaming popular TV and movies |
| Xbox Gold Subscription | $59.99 | 1 | $59.99 | access to Xbox content like ESPN TV and Movies |
| Walking Dead Season 3 9-16  (SD) | $14 | 1 | $14 | Season Pass 3×02 |
| Breaking Bad Season 5 (SD) | $14 | 1 | $14 | Season 5 Pass |
| Game of  Thrones Season 2 (SD) | $3/episode | 10 | $30 | Current HBO content not cheap |
| | | TOTAL COST | $645.00 | |
So there you have it for about $645.00 per year you get a pretty rich set of viewing options, including popular AMC and cable shows, Live TV news, Movies,  and sports wise unless your a true team junkie or sports fan, you still get to see the Superbowl, most weekend football games, Baseball playoffs and world series, NHL games, NBA games, and assorted other sports via OTA and Espn . Not a big streaming movie or series TV fan nix Netflix and save $107.40 or adjust your other  options based on your viewing  preferences.
Now let's compare that to cable ( I chose Comcast Cable TV+Internet my regional provider ) advertised as $69.99/6 months then $89.99 afterwards, so the average I'll use is $80, actual cable pricing varies too much based on package chosen, cable provider, region, new or existing subscriber, etc. but this number is in line with the NDP study of the national average of $86/month.
| Provider | Cost | Months / Term | Yearly Cost | Savings Vs. Cable | Notes |
| --- | --- | --- | --- | --- | --- |
| [Cable] Comcast TV+Internet | $80 | 12 | $960 | - | 80+ TV channels  and internet |
| Cord Cutters DSL | $645 | 1 | $645 | 33% | Live TV + Netflix + a la carte shows + popular sporting events |
| Cord Cutter DSL sans NEtflix | $537 | 1 | $537 | 44% | Live TV + a la carte shows + popular sporting events |
| Cord Cutter DSL barebones | $419 | 1 | $419 | 56% | Live OTA TV and Internet only |
Savings over traditional cable about 33% , nothing radical but it could be more if you adjust your show and movie choices or your neighborhood cable is higher..
Of course if you can't find a popular movie on Netflix you can always rent them via Amazon or Xbox (zune) for between $4/$6 a movie, I left this option out since Netflix should help mitigate most of your movie needs, plus its very subjective how many movies folks want to rent , how often an din some cases maybe even traditional DVD's from Redbox may suffice…
Absolutley Yes! Cord Cutting Saves real money
So there you have it, yes , cord cutting does save you money. IT's not an end all be all, but here's a surprise neither is cable or satellite, since often you won't have the one or two programs available without bumping up to the next most expensive tier.
plug in your local costs and see how you make out.